Duration and Prices Vary – See Individual Workshops.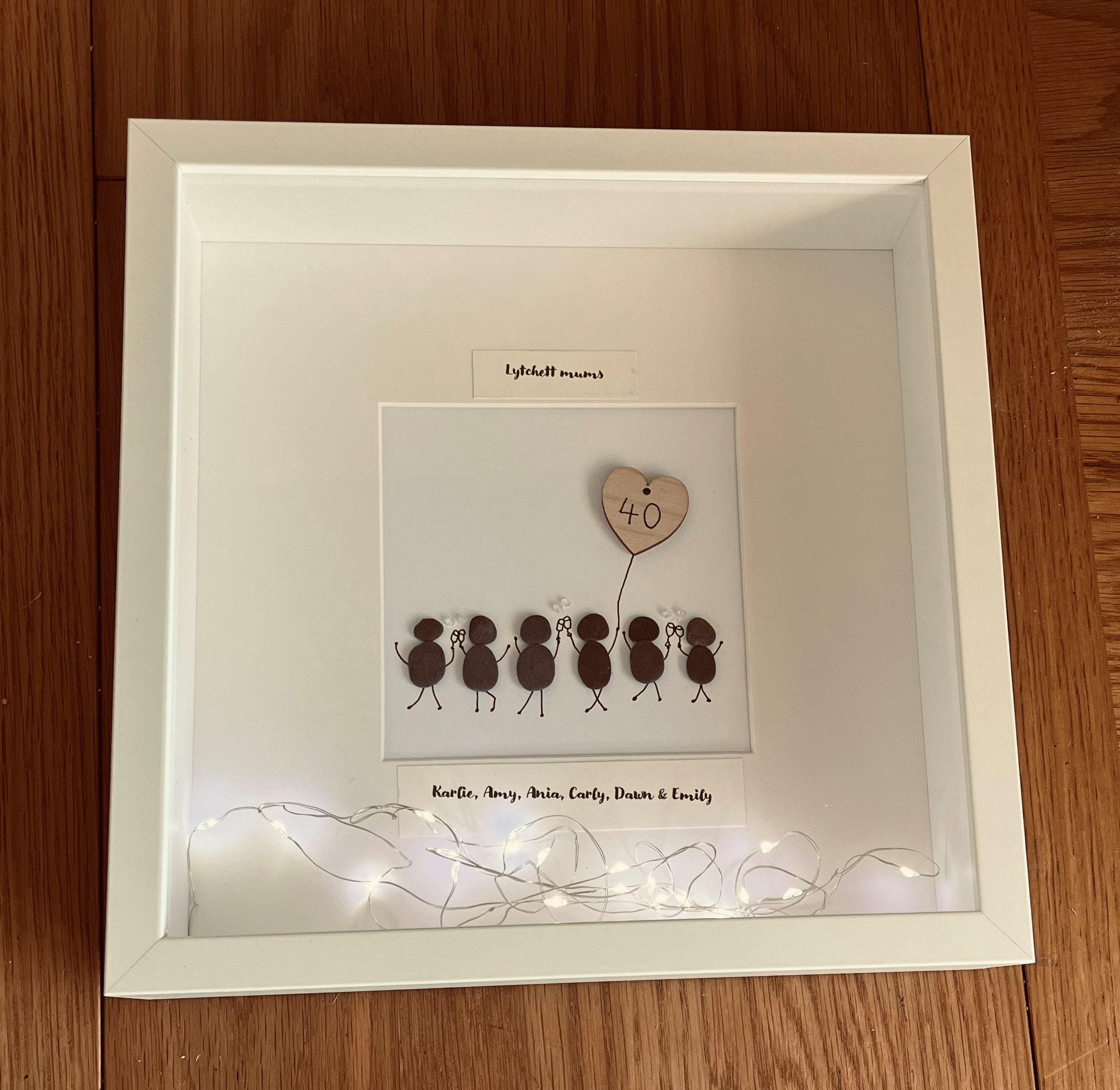 Course 1 : Pebble Frame Workshops - £32 per workshop.
Tutor: Dawn Murray
Course Date: 18th September and 27th November 10am to 12pm
Come along and create a pebble frame – these are perfect for a new home, wedding, engagement, birthday, Christmas or as a new baby gift. Or why not just make one for yourself! Plan and design your frame with all the help and support you need. All the resources are provided for you, so come and spend a relaxing few hours getting creative, and leave with a special picture that you have made yourself!
Workshop 2 : Autumn Wreath Making £45 per workshop
Tutor: Adele Miller
Course Dates: Friday 22nd September, 10am to 12pm and 1pm to 3pm
Learn how to create an autumnal door wreath with eco-friendly techniques and seasonal ingredients. Great as an alternative Halloween decoration or to simply celebrate the changing of the seasons. Using a mixture of fresh & dried ingredients to create a wreath which can be used up until it's time to swap it for a Christmas wreath. Adele from Fig & Bramble will guide you through the whole process with all materials provided. No experience necessary.
Fig & Bramble is a New Forest based florist with a cut flower patch. Adele keeps her work as eco-friendly and as sustainable as possible, using mostly home grown and British grown blooms and avoiding single use plastic.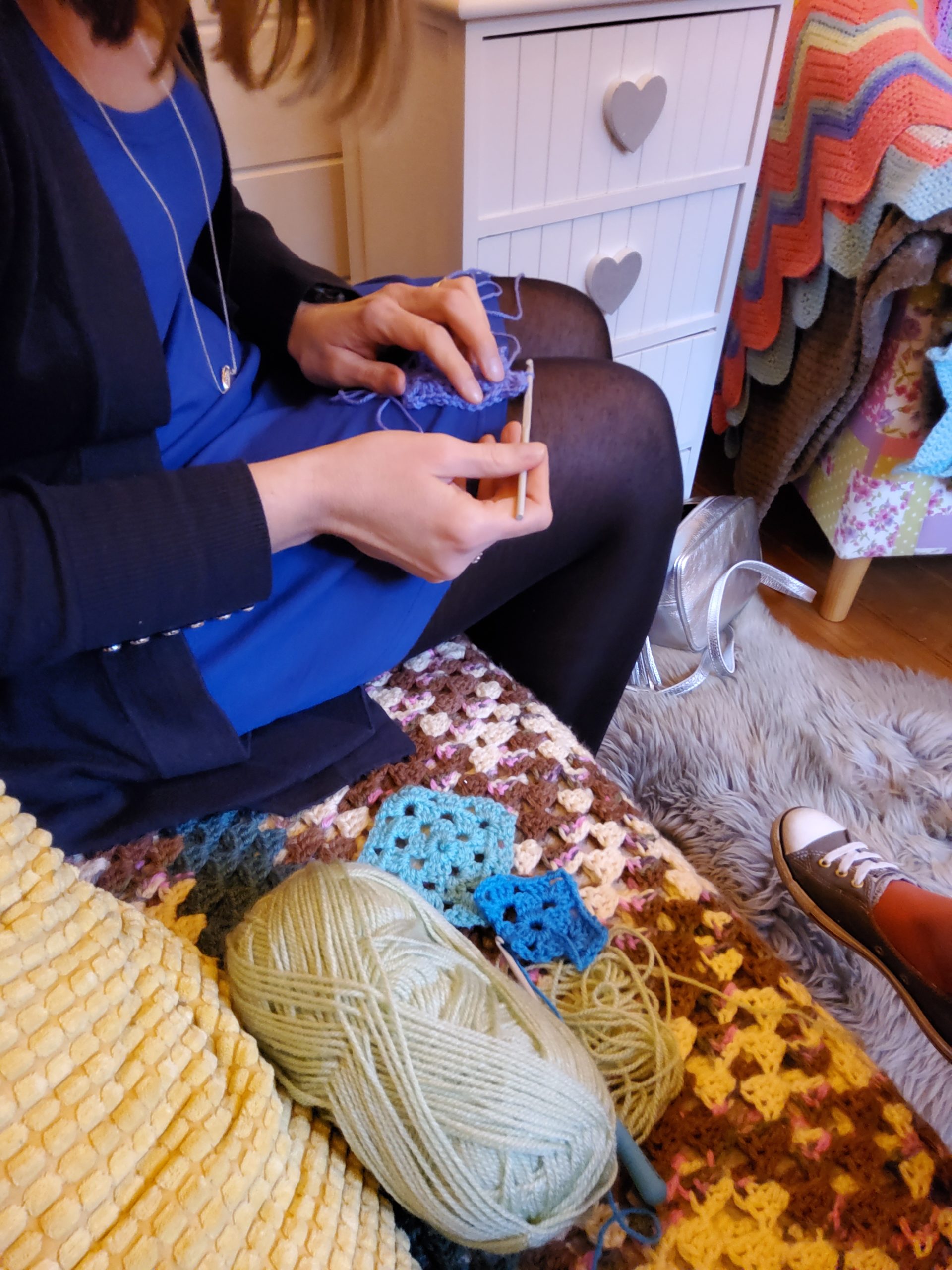 Workshop 3 : Crochet for Beginners £20.00
Tutor: Liz Norman
Course Date: Thursday 12th and 26th October 10am to 12.30pm
Crochet is one of the easiest and most satisfying crafts to enjoy. Come along and learn the basics of how to create the traditional 'Granny Square'. You will learn how to chain stitch to form a circle, how to treble crochet and create corners plus how to change colour. Watch as your creation grows before your eyes. Yarn and hooks will be provided to buy, or you are welcome to bring your own.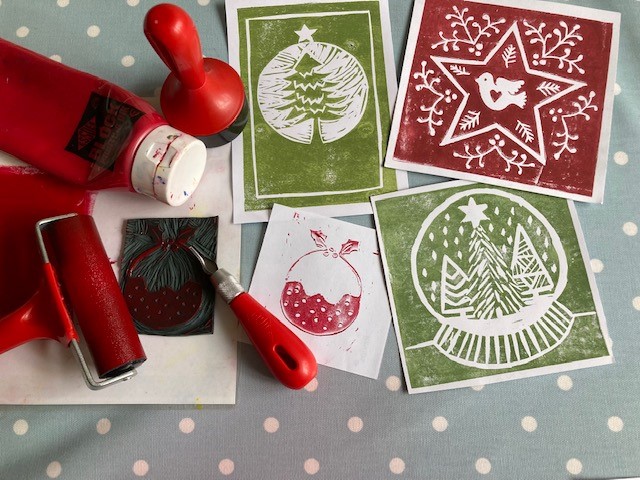 Workshop 4 : Lino Print Christmas Cards - £27.00
Tutor: Jo Malyon
Course Date: Friday 17th November, 10am to 12.15pm
Why not make your very own Christmas cards this year? Lino print is a great technique to learn – relaxing and therapeutic, easy to do at home, and perfect for making multiple copies, such as Christmas cards! In this workshop you will learn how to use cutting tools, lino and inks, you will design and carve a lino block and then use it to print one-colour prints. You will take home your lino block as well as 5 unique home-made Christmas cards.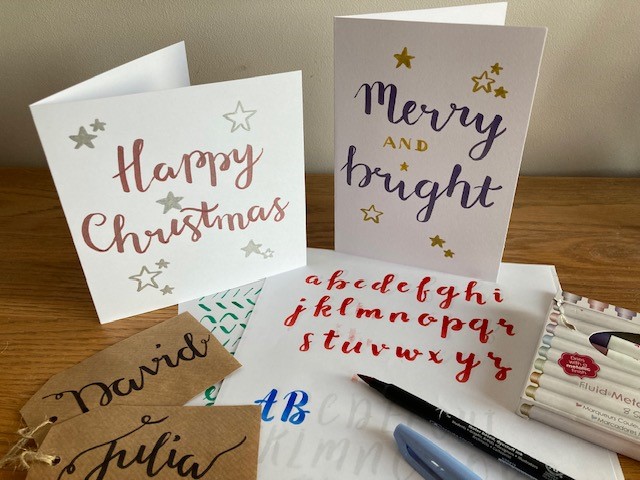 Workshop 5 : Modern Calligraphy Christmas Cards £27
Tutor: Jo Malyon 
Course Date: Friday 17th November 1.15pm to 3.15pm
Why not spend a relaxing afternoon creating your own unique Christmas cards and gift tags? In this workshop you will learn the basics of modern calligraphy using brush pens. You will practice techniques for producing beautiful lettering. You will then be able to create your own cards and gift tags to impress your family and friends with!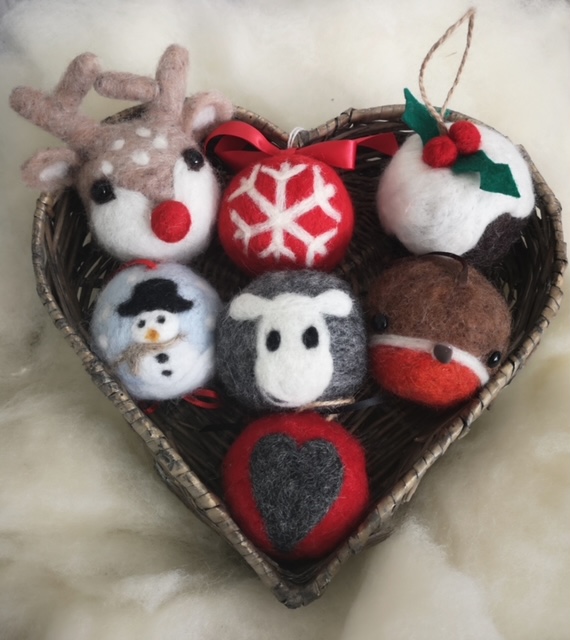 Workshop 6 : Christmas Tree Decorations - Felting Workshop £27
Tutor: Deborah Robinson
Course Dates: Friday 1st December 9.30am to 1.30pm
Come and make an heirloom of the future! Based on the traditional bauble shape, make your own Christmas tree decoration in needle felt.  Learn the basic techniques of shaping and decorating a unique and original item. It could be a colourful globe, a robin, a reindeer, a snowman, an elf or even a Father Christmas.  Let your imagination run free! The price includes all the materials to make one decoration. If you have time to make more than one, there will be a small extra charge.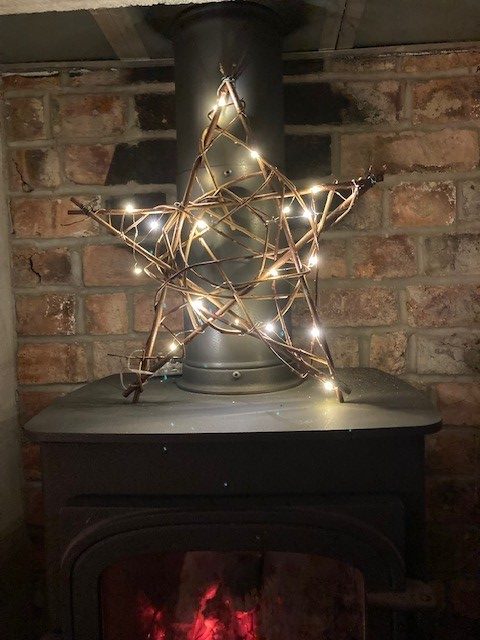 Workshop 7 : Willow Weave Star £27
Tutor: Jo Malyon
Course Dates: Monday 4th December 10am to 12.00 pm
Weave your very own unique large willow star and make as many pretty little willow stars as you have time for! What better way to adorn your Christmas tree or front door than your handcrafted star! In this workshop you will learn how to use willow and use the random weave method to construct your own beautiful star.
You can also add lights for an extra £3.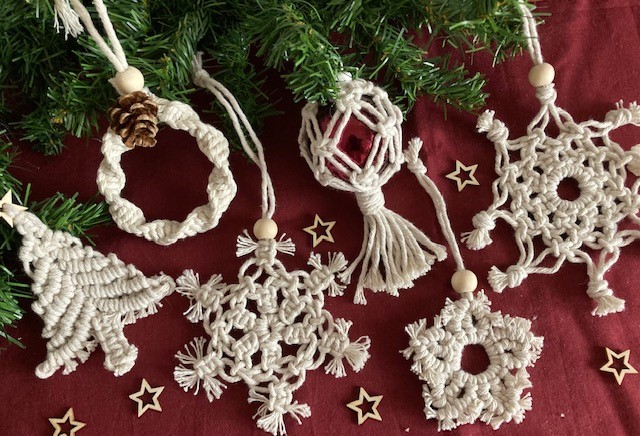 Workshop 8 : Macramé Christmas Decorations £27
Tutor: Jo Malyon
Course Dates: Monday 4th December 1pm to 3.15 pm
Get merry with macramé and make some cute Christmas decorations! In this workshop you will learn some basic macramé knots and make 4 Christmas decorations. This is perfect for beginners who are new to macramé but also a fun activity for those with experience.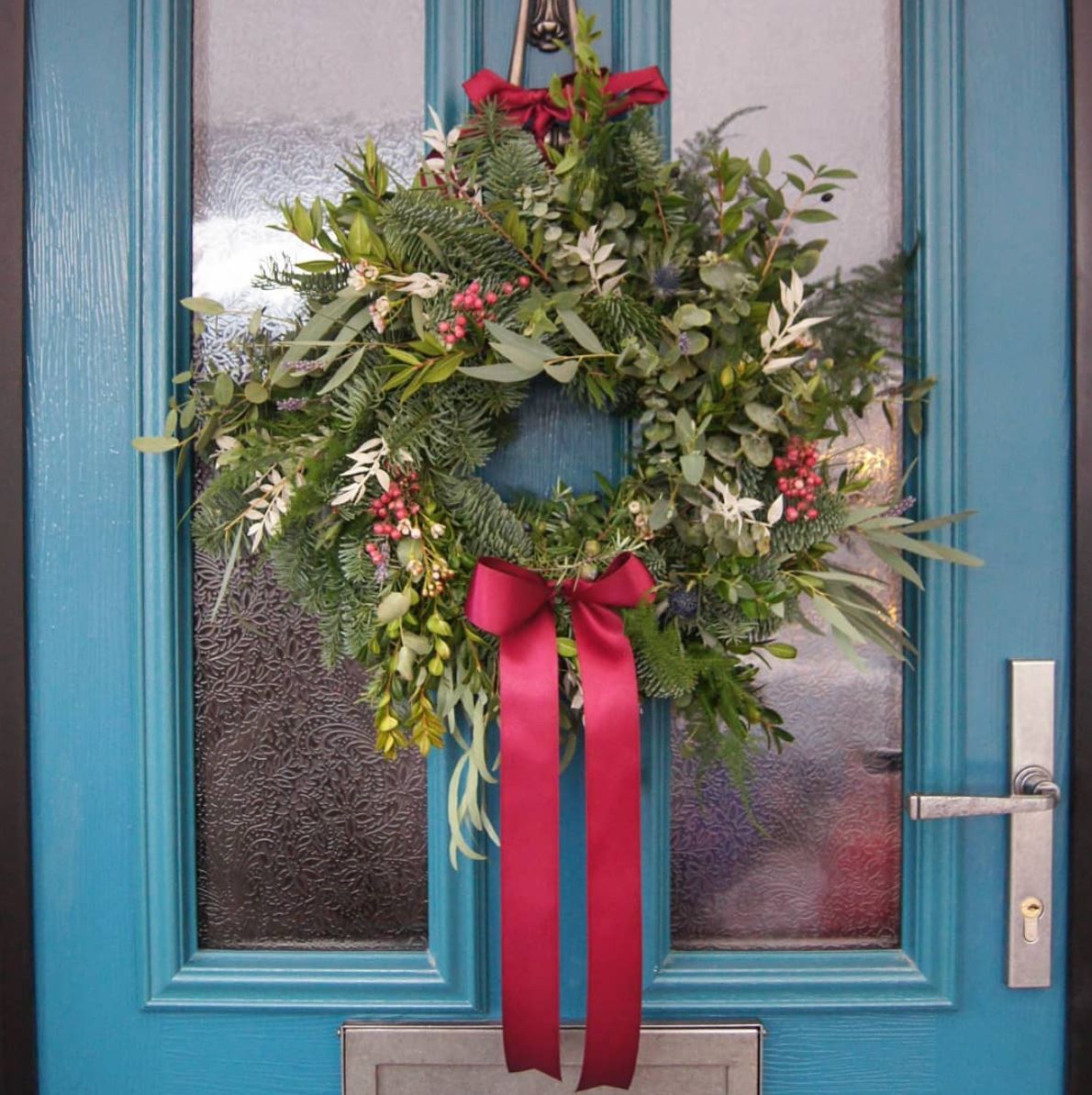 Tutor: Adele Miller
Course Dates: Thursday 7th December 10am to 12pm and 1pm to 3pm
Spend a few hours doing something completely different, and surprise yourself with your inner creativity! Come along and get into the festive spirit by creating your own Christmas wreath to take home. Adele from 'Fig & Bramble' will teach you environmentally friendly techniques using a moss base, home grown dried flowers and a selection of finishing touches to make a wreath that's personal to you.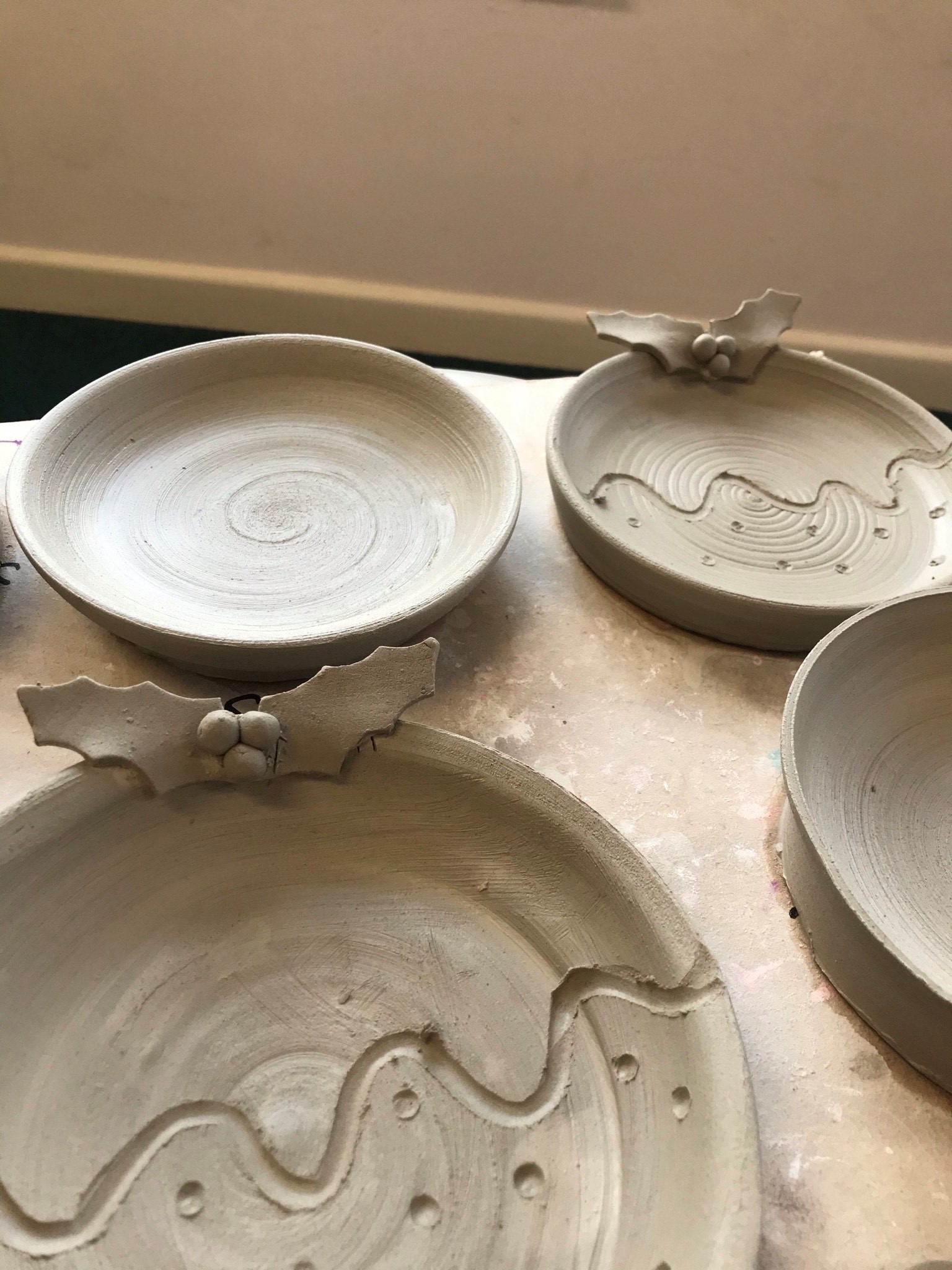 Tutor: Maisy Jones
Course Dates: Friday 8th December, 10am to 12pm or 1pm to 3pm
Join Maisie, The Touring Potter, for a festive themed pottery workshop. Create a set of up to 5 hand built ceramic Christmas decorations or ceramic Christmas wreath. Use the potter's wheel to throw your very own festive nibble bowl or Christmas pudding dish. All pieces will be glazed and fired and dropped off at Allendale house for collection ready for Christmas. Come on your own or with a group of friends! This is a fun, creative and friendly group and Maisie will help to guide you through the process step by step to make some festive delights you will be proud to show off on Christmas Day!